Get Caught Up on the Past Nine Months of Updates
---
Find out what you missed and what you need to do next.
Have you been following all of the latest updates on the IOA Bylaws and Articles of Incorporation? Are you feeling a little overwhelmed and lost in the sea of documents and links?
Here is a timeline to help you make sense of it all and help inform you about the next two steps of this process, including participating in one of the October Town Halls taking place on 26 October and placing your vote by proxy or at the next Special Member Meeting taking place on 16 November.
2021 Timeline Regarding IOA Bylaws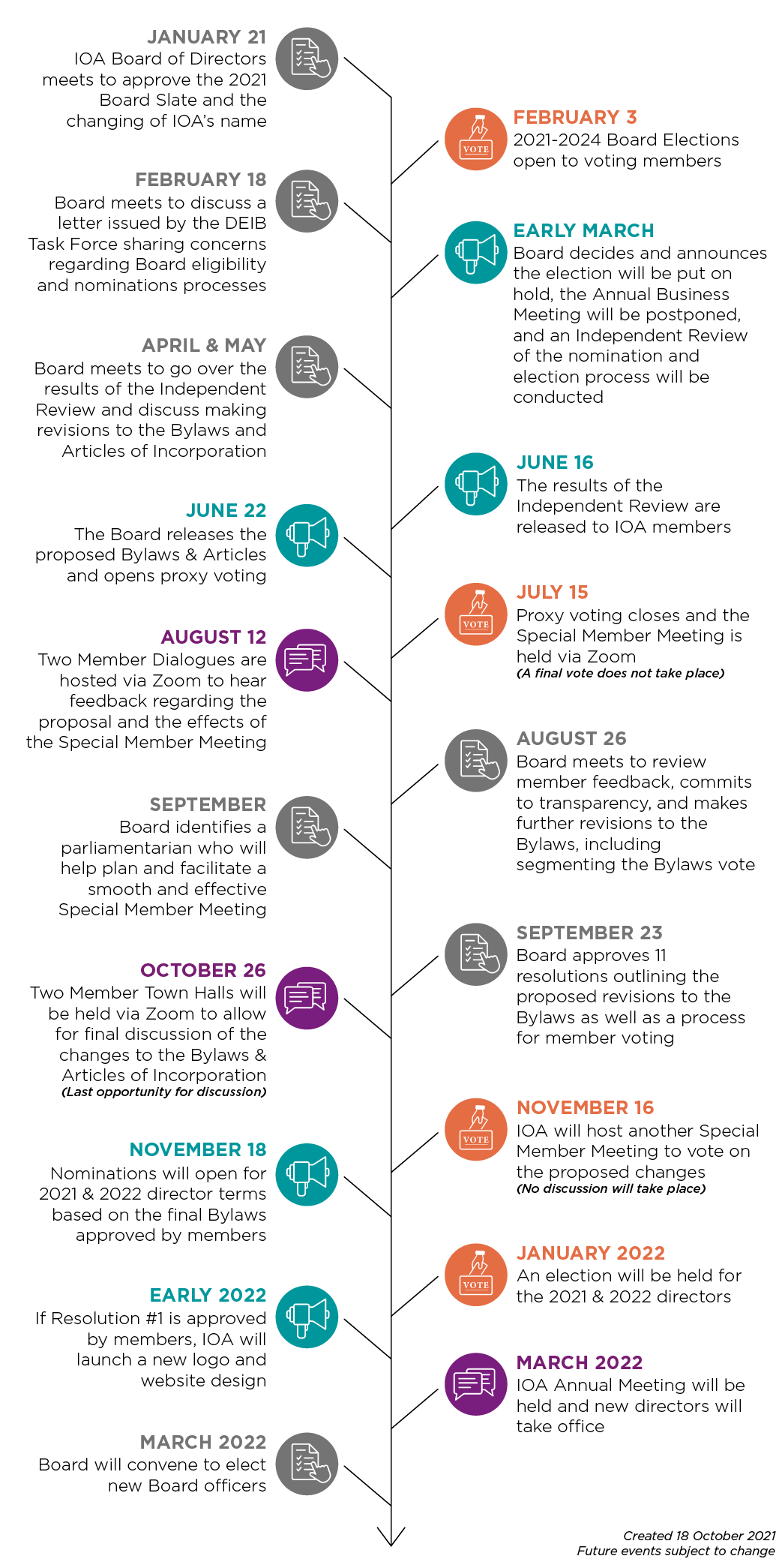 ---
Sign Up for a Town Hall Meeting
This is the last opportunity for IOA members to discuss the proposals.
To convert these times to your time zone, consider trying the World Time Buddy app.
The IOA Board, with advice from IOA's legal counsel and parliamentarian, has concluded that there would not be a reasonable amount of time to have a discussion on the proposed changes and conduct a vote on each resolution during a single meeting. These meetings are the last opportunity members have to discuss the proposals before the next vote.
---
IOA Special Member Meeting: Save the Date
Tuesday, 16 November 2021 | 8:00–9:30 AM PT
The IOA Board of Directors is calling on all voting members to cast their vote on the revised set of proposed amendments to the IOA Bylaws and Articles of Incorporation.
IOA voting members will be able to vote electronically by proxy or participate in a live vote online during the virtual Special Member Meeting taking place on Tuesday, 16 November. Voters have the option to vote "For," "Against," or "Abstain" on the seven proposed resolutions regarding the amendments to the IOA Bylaws and Articles of Incorporation. Full, Retired, and Distinguished Emeritus Members are entitled to vote.
Registration for the upcoming Special Member Meeting will be opening soon. Members will also have an alternative option, to vote by proxy if they cannot attend the meeting live.
---
Share this post: