Share Your Ombuds Journey
Help Us Explore Our Diverse Stories. Submit Today.
By IOA
Updated March 2022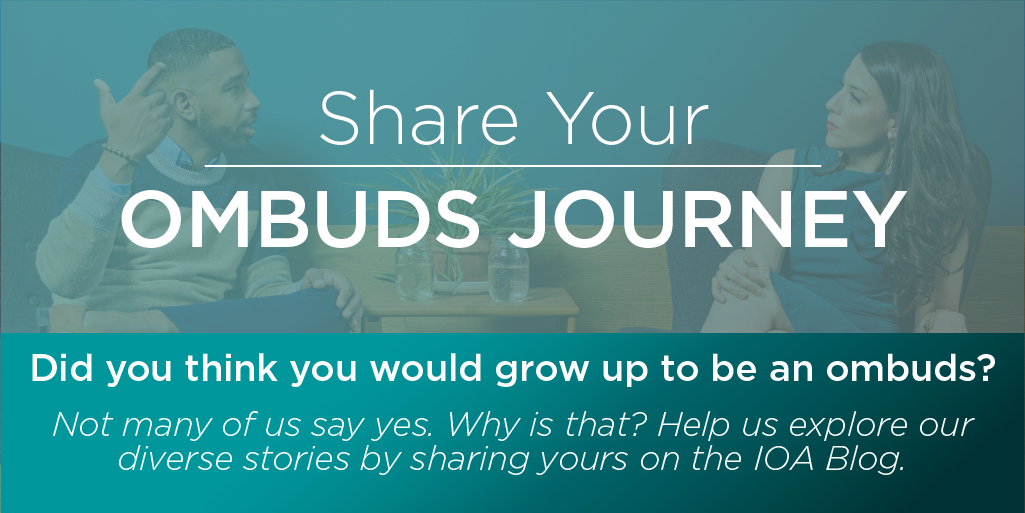 The global ombuds community is filled with professionals who come from a wide variety of backgrounds. There are IOA members and supporters like you with a diverse range of academic credentials and professional experiences. 
Unlike many professions, the journey to become an ombuds, ombudsperson, or ombudsman does not follow a clearly identified path. To celebrate and better understand what it takes to become an ombuds The Independent Voice is launching the Ombuds Journey Project. This blog mini series will feature and share the real-life journeys of ombuds just like you.
The goal is to connect more deeply with one another as well as inspire emerging and aspiring ombuds to continue along their ombuds journey with a better understanding of what shaped the path of their colleagues in the profession. Share your ombuds story to help others navigate their path to becoming an ombuds. Help contribute to this project submit your story today!
---
How to Submit
If you would like to share your journey, please email your narrative to [email protected]. We will be collecting stories throughout the month of June and we encourage both members and non-members to submit and share their experiences here on IOA's Blog. 
Requested Details

Name
Job Title
Organization
Years Active
Narrative
Please include a photo of your self for the post.


Need help getting started?

Here are some prompts to help you frame your narrative:

What first inspired you to fulfill the role of an ombuds?

How has your educational background helped you succeed in this role?

What professional experiences helped shape your path?

What allows you to stay prepared for success in your role?

How do you care for yourself to ensure your sustainability in this role?

What guidance would you give others that are interested in starting their journey?
Share this post: